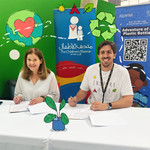 Recycling Adventures At The Museum
The Orenda Tribe and the Children's Museum Join Forces for Recycling Adventures
The Orenda Tribe is excited to announce our second-time partnership with the Children's Museum in Jordan. Together with PepsiCo Middle East, we're bringing a world of fun activities to the museum this July, all aimed at raising children's awareness about recycling through art and storytelling.
This initiative is part of our ongoing collaboration with PepsiCo Middle East, under the Aquafina-led campaign named "The Magic of Recycling."
Last year, our efforts reached around 800 children in just three weeks, and we're excited to surpass those numbers this time around!
A Tale of Collaboration:
Great things happen when like-minded organizations come together, and that's what's happening with The Orenda Tribe, PepsiCo Middle East and the Children's Museum. Our shared vision is to cultivate environmental consciousness in children across the MENA region.
By combining the power of art, storytelling, and the magic of recycling, we're crafting an experience that will leave a lasting impression on young hearts and minds.
Join Us This July:
This July, the Children's Museum will be the vibrant canvas where The Orenda Tribe will unveil a series of engaging activities. Children will immerse themselves in hands-on art activities and learn about recycling heroes through storytelling. We believe that through creativity and storytelling, we can inspire a generation of young environmental champions.
Planting Seeds of Change:
The impact of our collaboration extends far beyond the walls of the Children's Museum. By instilling the importance of recycling in children's hearts, we are nurturing a generation that values sustainability and embraces responsible practices. These young change agents will carry the torch forward, spreading the message of recycling far and wide, and inspiring others to join the cause.
Stay tuned for more updates, and mark your calendars for a July filled with creativity, storytelling, and the joy of recycling! Together, we can make a world of difference, one recycled masterpiece at a time.