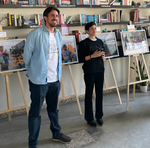 The Orenda Tribe and The Kyan Project Join Forces for Greater Impact
Empowering Youth and Transforming Education Worldwide
The Orenda Tribe & The Kyan Project Merge
We are happy to announce an exciting development that marks a new chapter in our journey towards making a positive change in the lives of young people worldwide. As of January 1st, 2023, HRH Princess Noor Bint Asem, the esteemed founder of The Kyan Project, and Zaid Souqi, the visionary behind The Orenda Tribe, have united their efforts and experiences under the umbrella of The Orenda Tribe.
Integrating Wellbeing and Social and Emotional Learning (SEL) into The Orenda Tribe's Programs and Products
The primary objective of this merger is to increase the impact of our collective endeavors by integrating wellbeing and Social and Emotional Learning (SEL) into the core of The Orenda Tribe's products and programs. By embracing these essential elements, we aim to empower, inspire, and educate young people through the transformative power of art and storytelling, while also fostering their holistic wellbeing and personal growth.
The Orenda Tribe's Leadership
Under this new alliance, Zaid Souqi assumes the role of Founder, CEO, and a board member of The Orenda Tribe. His passion for youth empowerment, combined with his experience in harnessing art and storytelling for positive change, makes him the perfect leader to guide The Orenda Tribe towards even greater heights.
HRH Princess Noor Bint Asem, renowned for her visionary work with The Kyan Project and experience in SEL will join us as the Co-Founder and Chairwoman of The Orenda Tribe. Her dedication to transforming education into hubs of wellbeing aligns perfectly with our mission to empower young minds globally. With her guidance, we will integrate the principles of wellbeing and SEL into our initiatives.
The Orenda Tribe's Advisory Board
We are also delighted to announce the appointment of two distinguished individuals to the advisory board of The Orenda Tribe. Mr. Amr Zedan and Mr. Mutaz Maroun bring a wealth of expertise to the table, enabling us to navigate new territories and explore innovative strategies to expand our movement. With their guidance, we are confident that we can build a stronger, more sustainable platform for positive change.
Franchising and Expanding Globally 
We are also excited to reveal our plans to franchise The Orenda Tribe. By expanding our reach into new countries, both regionally and across the world, we will create a global network of young change-makers, united by a shared purpose and a passion for transforming lives through art and storytelling. This franchise model will allow us to empower local communities, amplify voices, and inspire creative expression in diverse cultures and contexts.
To New Beginnings
The merger of The Orenda Tribe and The Kyan Project signifies a powerful union of two like-minded organizations committed to empowering young people and transforming education.

We would like to express our gratitude to our community for your kind support throughout the years. Your belief in our mission has been the driving force behind our growth, and we are honored to have you by our side as we take this next significant step.

With gratitude and enthusiasm,
HRH Princess Noor Bint Asem
Co-Founder and Chairwoman of The Orenda Tribe

Zaid Souqi
Founder, CEO, and Board Member of The Orenda Tribe