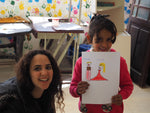 The Orenda Tribe's Featured Artist - Razanah Silawi
Razanah Silawi, the first super talented artist that volunteered her time selflessly to The Orenda Tribe.
Razanah designed the artwork that was made in Jerash/Gaza Refugee Camp kindergarten's main hall that was created in the aim of motivating children to attend school by creating a friendly and fun environment for them.
Meet Razanah Silawi and know more about her: 
  

Tell us a about your background. Your art related experience and what you are studying right now?
I practice art through a variety of mediums; Drawing, painting, theater, make up and video.   
My first official learning in the field of art was during my studies at Vanier college in Montreal, Canada. I graduated from Vanier with a Communication Art and Media Diploma, where I exhibited my work and curated at Henry Lehman Student Gallery.
During the same time period, I explored Artistic make up at La Salle College, and I got to work in the field of makeup in film and television for a while after.
I am currently a student at the design for the theater program at Concordia University, Montreal. I work on theater productions, student film projects as well as my own freelance projects and paintings.
  

How did you get into ART?
My early exposure to different mediums of art was through my mother, who is a Jewelry designer, Rawabi Abu Ghazaleh. I spent my summers and after school time at her workshop exploring number of materials. 
Art has always been an essential part of my life. Painting and theater are in particular a great tool of expression for me. After several years of doodling, making crafts and putting on shows I realized the power of Art through the different mediums. I chose to pursue a career in the field of art not only to portray my ideas and views, but also to explore new ways of giving back to my community. And while maintaining my exploration of different mediums, the goal is one, it is to bring joy.


  

What do you like the most about ART?
Here is what I Like about Art:
While art can be a visual experience that is universal in it's language , it simply triggers emotion. The Process of creating art can be a personal journey or a collaborative one in both cases creating a connection with oneself and others. It delivers a sensorial experience and it tells a story. Art is an effective tool of expression. Rather than focusing on the finished product alone, making art is about the process itself, and how that can be empowering as an individual as well as a group.
  

Tell us about your experience with The Orenda Tribe?
I had a remarkable experience with The Orenda Tribe through the school beautification project.
My first project with The Orenda Tribe was through The School Beautification Project at Jerash Refugee Camp. It was an honor that, The Orenda Tribe had helped me stir what I know into giving back to the community. And while it had been a project where we just painted the walls of a nursery, it had created a huge difference.
We were able with the help of volunteers from outside and inside the refugee camp to create an uplifting environment for kids of the area. Kids around the school were constantly popping in and motivated to see the creation. Young men, volunteers, of the camp were happy to pick up a brush whenever they can, stop by and help.
The Orenda Tribe allowed me to witness how art can create change in action rather than it being a goal to look forward to. A whole community was brought together through art. They were all ready to give back to the community with the motivation of The Orenda Tribe. People of the community understood how simply art could aspire creativity in their kids and motivate their learning.
  

Any words/message to The Orenda Tribe followers?
Get involved. There is nothing better than giving back to your community. Whatever skill set you have, there is always someone who needs you. Create art. You only need your will and your positive spirit to create beautiful art. Ask the kids! They are experts.
Inspire Hope,
Zaid Souqi
------------------------------
Support our cause of empowering children through art, by buying our 100% organic cotton purposeful t-shirts. The artwork on the T-Shirts is made by children living in our partner communities and refugee camps. A gift with a cause.
Link to our collection: Our T-Shirts
------------------------------