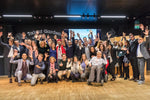 Entrepreneurs for Social Change
What happens when you put 25 social entrepreneurs, 25 dreamers, from 17 different countries together in Turin for 8 days?
Apparently something magical happens. Although I am still trying to wrap my head around the life changing experience that I just went through, I know one thing for a fact. I know that we were all inspired to have bigger dreams, to believe that collectively we can change the world into a better place and we were most importantly fueled to go back to our countries and take action and these were just the first 8 days of this world changing program.
Thank you UNIDO and Fondazione CRT for this beautiful initiative.
Entrepreneurs for Social Change is a program that helps young social entrepreneurs become drivers of change and I am proud to say that I was picked to participate with The Orenda Tribe idea this year.
To know more about the program click this link http://www.unido.org/news/press/helping-young-social.html
Inspire Hope,
Zaid Souqi
-------------------------------
The Orenda Tribe is a t-shirt brand on a mission of empowering children through art and art education. Learn More. #ArtforHope