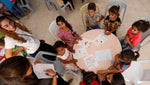 Project 4 - Art Education
Location: Gaza Refugee Camp
Reach: 50 Children
Year: 2016
The different forms of art are endless. We can do murals, workshops, portrait art, landscape art, music, dancing and the list goes on.
At our beginnings and up until now, we experiment with different forms of art with each new #ArtforHope workshop in the aim of finding the best formula to benefit the participants and have a positive impact.
Just before our fourth project we met Lana Al Mufleh, a teacher with knowledge and passion for Art Education. Lana was so kind to volunteer her time with us to run an art education workshop for children at Gaza Refugee Camp.
Lana taught the children about the four different seasons and the environment through art.
This workshop was an insight for The Orenda Tribe on the power of arts in education, a major part of our #ArtforHope workshops today.