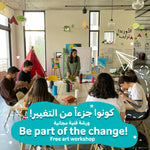 Join us for a 4-day free art workshop to discuss Food Security issues in Jordan and to come up with creative solutions to these issues.
We will tackle food security issues through arts & crafts. Participants will jointly come up with different ideas to solve these food security issues and all the work will be exhibited to the public.
Age: 18 to 35 years old

Locations: The Orenda Tribe on google maps. Weibdeh.
Days: Wednesdays - 19th & 26th of January + 02nd and 09th of February (participants are required to attend all 4 days)
Time: 5.30pm to 7.30pm
Fees: Free
To register call 0791200818.