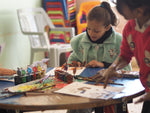 Art. A Catalyst For Change.

Imagine.
An art curriculum tailored by several artists of different nationalities and backgrounds, in the aim of empowering children in refugee camps and distressed communities all over the world.
An art curriculum that improves problem-solving skills in children, encourages them to think outside of the box, teaches them how to express their feelings in colors, breaks barriers between them and much more!
Now let us make it happen!
The Orenda Tribe is looking for artists who are willing to work with us on this art curriculum.
We are looking for experienced artists who can tailor a number of classes that can benefit the children and then we will combine all classes together into one magical art curriculum, implement it at the refugee camps and distressed communities and fund it through The Orenda Tribe.
For example, an experienced artist with knowledge and passion on team-work can create a class or two that cover this subject, another one can create a class on expression through art and so on.
Then we want to implement the curriculum in as many communities as possible and train people from within the communities to teach it to the children.
Outcome:
A beautiful collaboration between artists and a long-term sustainable solution that benefits and empowers children living in distressed communities through art.
If you are an artist who is interested in being part of this project please email us at
info@theorendatribe.com
If you are not an artist who is interested in this project please pass it along to someone who might be.
Inspire Hope,
Zaid Souqi
------------------------------
Support our cause of empowering children through art, by buying our 100% organic cotton purposeful t-shirts. The artwork on the T-Shirts is made by children living in our partner communities and refugee camps. A gift with a cause.
Link to our collection: Our T-Shirts
------------------------------