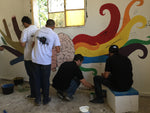 Location: Gaza Refugee Camp / Jordan

Reach: 50 Children

Year: 2017
A group of young people from a grass root organization that serves at Gaza Refugee Camp, raised funds and bought two strategically located old houses at the camp. They renovated the houses, connected them together and made them into an art and culture hub that encourages camp residents to practice art, music and read.
As the center was getting ready, in 2017 The Orenda Tribe signed a partnership agreement with Zain Telecommunication's Company. As part of this partnership Zain sent a team with The Orenda Tribe to Gaza Refugee Camp to beautify part of the art and culture center and they sponsored the paint and art supplies.
We painted a drawing that shows the importance of both parts of the brain the creative and analytical part.